Tony Hale's Ctrl (Awesome of the Day)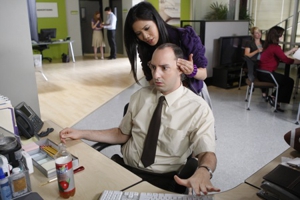 NBC just finished its 10-episode run of Ctrl, a web series starring Arrested Development alum Tony Hale as a beaten-down office worker with a very literal keyboard—Ctrl Z creates a do-over, Ctrl B gives him boldness. But his newfound power gets out of control quickly.

This is the first time one of the major networks has developed a stand-alone series specifically for the web, and the story feels more developed than any of the webisodes that NBC often airs as supplements to its televised shows. That may because it was initially developed as a short film by Robert Kirbyson, who kept two of the three original principals for the NBC version, Hale and his love interest Emy Coligado. Zachary Levi played the boss before going on to star in another NBC series,
Chuck
. He was replaced by Steve Howie in
Ctrl
. And sponsor Nestea was brought aboard along with significant product placement. The series will be available at NBC.com until Jan. 15.
Here's the original short film,
Ctrl Z
:
You can
watch the NBC version of Ctrl here
.
Others Tagged With