EOS Wireless Speakers (Awesome of the Day)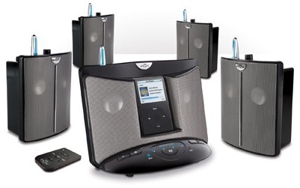 Part of the fall ritual when I was in college was running 100-foot wires to three-foot-tall speakers in various rooms of the apartment so you could play music throughout the house. That's starting to feel as antiquated as the dorm-room CD player, VCR and answering machine. Wireless audio systems like one from EOS are just going to spoil today's kids.
The EOS basestation comes with a single remote speaker for $249.99 with the capacity to add three more speakers at $129.99 each. Set up couldn't be easier—plug in the base station, plug in the speakers up to 150 feet away, dock any iPod (except the shuffle) or plug in any audio source, and turn up the music. The speakers have their own volume knobs and can either be mounted straight onto a wall outlet or plugged in with a short cord. The base station itself contains a pair of speakers and lets you mute the remotes.
The sound won't blow audiophiles away—the bass gets surprisingly muddy at higher volumes, but vocals tend to sound good. For casual listeners not wanting to drop $1000 on a wireless system, it's a cool set-up. The basestation works as a charger for iPods, and each unit is small enough to let you easily take the music outside. And if your neighbor has an EOS system, you can program each of your units with a unique ID so they don't wake you up to their early morning workout jams.
Details:
EOS Audio System
$249.99 for the basestation + one remote speaker
$129.99 for each additional remote speaker
Josh Jackson is the editor-in-chief of Paste magazine and blogs daily about music, film and culture (and sometimes beer) at High Gravity. You can follow him on Twitter @joshjackson.
Others Tagged With