Leonard Cohen Live (Awesome of the Day)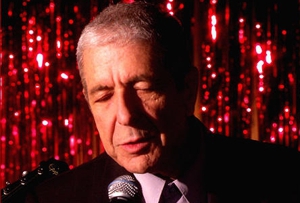 Who's the Boss? Seventy-five-year-old Leonard Cohen did everything he could to steal Bruce Springsteen's moniker last night at Atlanta's Fox Theatre, playing for over three hours, skipping on and off the stage and dropping to his knees whenever a song reached an emotional climax. It's a good thing, too, with ticket prices topping $200 for a rare performance from the Sixth Best Living Songwriter. More than I can remember at a concert, I hung on every lyric, and the spoken-word pieces were as good as the songs. When a guy writes lines like, "There is a crack in everything / That's how the light gets in," you pay attention to whatever is going to come next.
The whole band was phenomenal. They went into intermission with "Anthem" and came back for hits like "Suzanne," "I'm Your Man" and "Hallelujah." This is starting to sound like a cliché, but my favorite piece of recorded music is Jeff Buckley's cover of "Hallelujah." Having never seen Buckley live, I can't imagine it would have been any more satisfying than hearing the guy who wrote it. Here he is performing it at Coachella earlier this year:
Josh Jackson is the editor-in-chief of Paste magazine and blogs daily about music, film and culture (and sometimes beer) at High Gravity. You can follow him on Twitter @joshjackson.
Others Tagged With