Awesome of the Day: Improv Everywhere's Subway Star Wars Stunt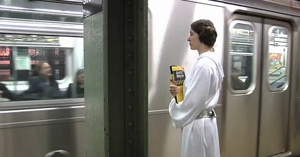 We're pretty sure this isn't the first time people have ridden the New York subway in Stormtrooper costumes. But we digress.
The latest "mission" from the mirth-makers of New York comedy outfit Improv Everywhere takes commuters into that galaxy far, far away when they re-enact an early scene from Star Wars Episode IV: A New Hope in a subway car. In the video, the passengers seem generally unfazed by the actress in the Princess Leia costume at first, but then in walk the Stormtroopers, followed at the next stop by a towering Darth. Hilarity ensues, days are made, etc.
Watch below and check out more hilarious videos at Improv Everywhere's YouTube channel. We especially recommend the one where they create a special sidewalk lane for tourists.
Others Tagged With