Bruce Springsteen-Inspired Map of New Jersey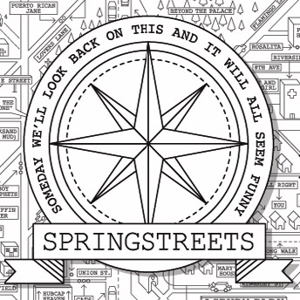 If anyone knows Jersey, it's Springsteen. So why not let him draw the map?
New York graphic designer Dan Cassaro (owner of Youngjerks.com) has designed and recently released a map of New Jersey where all the names (streets, buildings, parks, what-have-you) are also lyrics from Bruce Springsteen songs. Of course, The Boss's Jersey isn't exactly a scale model, but it does tell you how to get to Easy Street: It's just past the Badlands Drive-in where he took Dirty Annie "just to get her alone." If you reach the For Hire: Guns billboard, you've gone too far.
Cassaro designs lots of other neat things (like Paul McCartney inspired typefaces and the coolest-looking-hardest-to-follow marinara sauce recipe we've ever seen), all of which are available for purchase on his website.
Others Tagged With