Awesome of the Day: Pop-Tarts World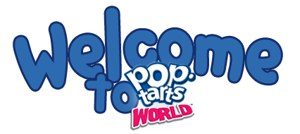 There's a lot we could complain about: the economy, neverending bills to pay, the oil polluting our oceans. But this past Tuesday, the good folks at Kellogg's wanted to give us something to help us forget the negativity, and focus on humanity's brighter moments. We're talking, of course, about Pop-Tarts World.
Pop-Tarts World, located smack in the middle of Times Square, is about what you'd expect from a place named Pop-Tarts World. Inside, visitors can find any and everything to do with the sugary breakfast snack. There's a Pop-Tarts World Cafe where you can purchase the breakfast food frozen, toasted, or at room temperature. You can also create your own Tart-themed T-shirt, and even assemble a personalized box of Pop-Tarts, custom-chosen from 23 different flavors.
Now, perhaps you think you don't need 23 flavors of Pop-Tarts to choose from. If so, Pop-Tarts World is probably not for you, and you can enjoy your oatmeal in peace. If the thought intrigues and excites you beyond belief, however, be sure to check out these pictures that New York's Eater blog posted. Pop-Tarts sushi? Genius!
Pop-Tarts World is located at 128 West 42nd Street in New York. Peruse its Tarty website here.
Others Tagged With