Theo Kamecke Makes Furniture and Art from Vintage Computer Parts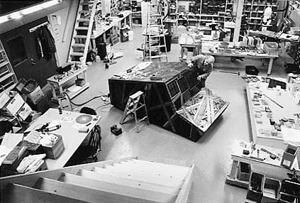 Theo Kamecke used to fill his days primarily making documentaries about the moon and cowboys until he stumbled upon a pile of electronic circuit boards and was struck by a brilliant idea.
He saw beauty in the common 1960s circuit board's geometric visual rhythm and nature-esque patterns and morphed them into ironically futuristic pieces to adorn homes (as of now James Cameron and Swiss surrealist painter HR Giger have pieces adorning theirs).
He names pieces regally and generally employs elements of Egyptian suave (Nertiti, Amon Ra … the list goes on).
Kamecke works in his studio in the Catskill Mountains just north of New York City.
Others Tagged With