Awesome of the Day: Korean Pizza Hut Commercial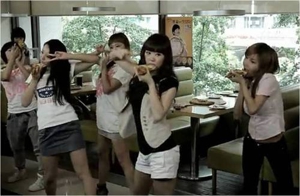 We've all had this problem at some point, I'm sure: You eat a pizza so delicious that you're compelled to get up and dance, but there's no choreography that'll do your ode to 'za justice.
Thanks to this Korean Pizza Hut commercial, our problems are solved! In the video, a group of girls each grab a slice and perform some bizarre pizza-inspired choreography. If you're planning on busting a move yourself the next time you hit up Pizza Hut, there's an instructional portion at the end of the commercial.
Start practicing your moves, and check out the Korean Pizza Hut ad below:
Others Tagged With