The Self-Serving Wine Machine: Go Green and Get Tipsy at the Same Time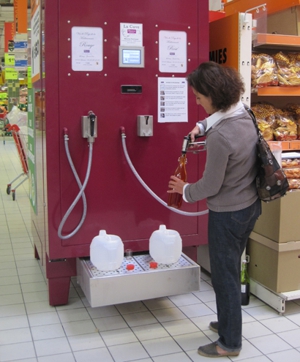 For this, Bacchus smiles upon France.
In an effort to consume less but maintain a buzz, brilliant French woman Astrid Terzian and her company Réserves Précieuses launched a line of wine dispensaries.
One may a bring an empty container of their choice (be it an empty 2-liter, a jar or even a super big cup) or buy one there, fill 'er up, print out the receipt and pay up front. You can choose from three grades: white, red or rosé.
Terzian placed her first wine pump at a grocery store in Dunkirk in June of last year, according to Dr. Vino. They vary between 500 and 1,000 liter tanks and now exist in nine French supermarkets total.
Dr. Vino also mentioned that these glorious contraptions ought to hop the ditch to the US within a year. Now that's something to toast cheers to.
Others Tagged With