Flashy and Functional: The Bottle-Opener Ring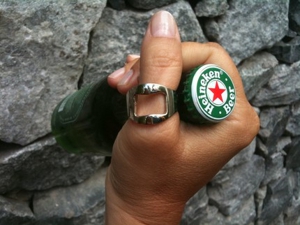 Buenos Aired-based Etsy seller beerring offers a ultra-versatile bit of jewelry—a ring that pops your brew (or soda)—with a $20 pricetag. You don't even need to remove the ring to open the bottle.
Sound appropriate for most of your friends? Lucky you. beerring, AKA Marcela (mother of three and self-proclaimed beer lover), offers wholesale options.
Peruse Marcela's shop here.