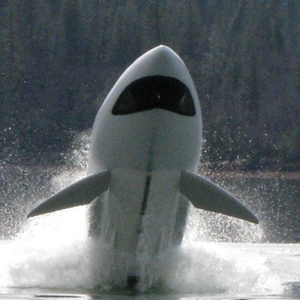 I think we can all agree that sharks are awesome. Giant teeth, menacing fins, the ability to smell blood in the water… totally badass. You know what are also awesome? Boats. Boats are the coolest. You can hang out on them with your bros, have some beers, fire up the engine and kick up some wake… so cool.
So I guess it was only a matter of time before someone came up with the Seabreacher X, a supercharged submersible boat that is, you guessed it, designed to look like a shark.
According to the official Seabreacher site, the Seabreacher X can "sustain high-speed dives and then breach the surface, launching the entire vessel clear out of the water." The implied final clause of that sentence, of course, is "just like a shark."
The Seabreacher X features a snorkel-mounted camera that transmits live video to LCD screens in order help the pilot navigate during dives. It's also got an on-board iPod dock, just in case passengers want to put on a certain terrifying John Williams film score while getting their shark on. And yes, it features a giant black shark-mouth painted on its hull. You know, in case there was any doubt as to what these guys were going for.
So this weekend, gas up your Seabreacher and head out to the lake for some serious shark-jumping fun. If you get close enough to the shore, you'll probably wind up with the beach all to yourself.
Others Tagged With