Willie Nelson Sings His Way Out of Jail Sentence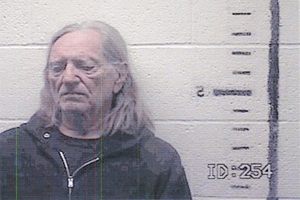 Willie Nelson has managed to elude jail time and a fine on the condition that he sings "Blue Eyes Crying In The Rain" to the Texan court that heard his case. Last November, the heralded country songwriter had been charged for possessing marijuana after six ounces were found in a search of his tour bus. The amount was lessened to three ounces after the search, downgrading the charge to a misdemeanor that could have netted Nelson up to a $2,000 fine and 180 days in jail.
Texas prosecutor Kit Bramblett has agreed, however, to instead make Nelson's punishment a $100 fine and a performance with his guitar. "He's got to sing 'Blue Eyes Crying in the Rain' with his guitar. You bet your ass I ain't going to be mean to Willie Nelson," the prosecutor commented to The Sun.
"Willie Nelson is 77 years old and I'm 78," Bramblett further explained. "He's been my favorite artist all my life. We all know he smokes a little pot."
No word yet on when the Willie Nelson courthouse performance will take place, but the show will more than likely be a non-smoking event.
Others Tagged With