Celebrate Star Wars Day with These Sweet Propaganda Posters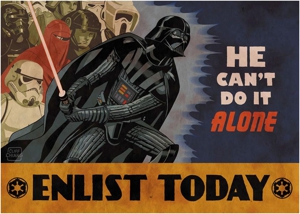 Happy Star Wars Day! For those of you who don't know, May 4 (Get it? "May the fourth be with you") is the day we set aside each year to celebrate the saga that changed geek-dom forever.
Over the years, Star Wars has served as inspiration for everything from World Cup commercials to Dr. Seuss mash-up cartoons. Doing our part for the holidays, we rounded up a gallery of sweet posters propagating the Galactic Civil War from both sides of the fight.
Others Tagged With