Extended Lord of the Rings Trilogy Returning to Theaters This Summer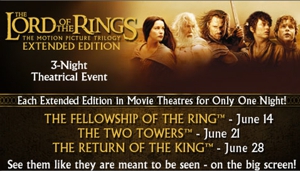 Have you ever been sad that you never had the opportunity to get the maximum Lord of the Rings trilogy theatrical experience — that is, witnessing the full extended DVD editions of the three films in a big-screen theater setting?
Well, mourn no more. Thanks to Fathom Events, for three nights this summer —one for each movie— the Lord of the Rings trilogy will return to nearly 500 theaters across the US. The single-night showings will feature an exclusive introduction by director Peter Jackson and the extended DVD versions of the films. That's 49 additional minutes for Fellowship, 56 for Towers and a whopping 62 of additional footage for Return of the King, which previously picked up a slew of Oscars, including one for best picture.
The screenings will take place at 7 p.m. local time on June 14, 21 and 28 for Fellowship of the Ring, The Two Towers and Return of the King, respectively. Click here for more info and to buy tickets, and here to see a full list of participating theaters.
Others Tagged With