Yoda Shares His Wisdom, Advice and Inappropriate Humor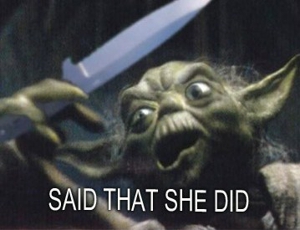 Gold Leader: It's no good, I can't maneuver!
Gold Five: Stay on target.
Gold Leader: We're too close!
Gold Five: Stay on target!
Gold Leader: Loosen up!
Gold Five: Gold Five to Red Leader, lost Tiree, lost Dutch.
Red Leader: I copy, Gold Leader.
Gold Five: It came from…behind!
For anyone who thinks a Michael Scott quote would be appropriate during this scene from Star Wars, we instead have the green Jedi to help us out.
On June 1, "Said That She Did" graced the Internet to entertain fans of Star Wars, The Office and, well, pretty much anyone with a sense of humor. The website features "That's What She Said" moments from the George Lucas saga, complete with screen shots and quotes. It also allows visitors to ask Master Yoda for help and advice over life's most troublesome issues, such as "I'm tired of my job! Should I suffer through it or quit and try a whole new career?" and "What should Anthony Weiner do?"
Check out the website, or visit Yoda's Facebook and Twitter pages. And always remember, the Force is strong with this one.
Said that, she did.
Others Tagged With