The Best Wedding Photos Ever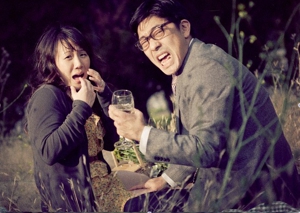 We've all seen the classic wedding photos. You know, the ones of a beautiful couple that are laughing together at something off-camera, embracing each other lovingly, jumping in unison together and so on. Well, one couple decided to do something different with their wedding photos.
The album, shot by Amanda Rynda, shows a couple, Juliana and Ben, having a simple picnic that goes terribly wrong. The idea came when Ben said he wanted a more masculine take on the wedding photo.
In the album, the two show a unity in their resilience to overcome such insanity, so it's pretty certain they'll be able to handle anything marriage throws at them.
Others Tagged With