Watch These Spooktacular Light Shows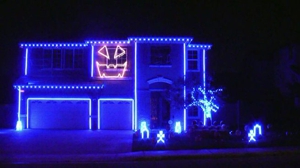 Remember that one awesome house who uploaded amazing light shows that were perfectly synched to Michael Jackson's "Thriller" and the perennial Holloween hit "Monster Mash?" Well, the house is back at it; this time with "Party Rock Anthem" by LMFAO and "This Is Halloween" from The Nightmare Before Christmas.
Both videos showcase intricate light shows, complete with singing pumpkins and spooky back-up singers in the lawn. Check out both videos below. We've sure you've seen them circulating on Facebook and Twitter, but "Party Rock Anthem" is just plain fun and "This Is Halloween" will definitely get you in the mood for trick-or-treating tonight.
Check out both videos below:
"Party Rock Anthem" – LMFAO

"This Is Halloween" –
The Nightmare Before Christmas
Others Tagged With