Wilco Jams with Mavis Staples and Nick Lowe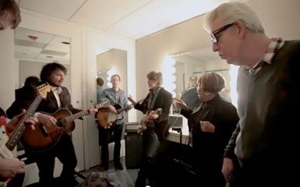 "Tweeeday," as veteran soul singer Mavis Staples calls him, has been on a roll the past few months. The Wilco lead singer has gone viral recently from announcing the weather on local Chicago television station WGN-TV and covering The Black Eyed Peas' "I Gotta Feeling" and "My Humps" at Dan Sinker's book release party.
Today, though, Wilco tweeted a slightly more serious, albeit still outrageously awesome video. Before a show at the Civic Opera House in Chicago last month, Staples and singer-songwriter Nick Lowe joined the guys for a rousing rendition of The Band's hit "The Weight." Time for a new supergroup? We think yes.
Check the fun, loose backstage rehearsal (filmed by Zoran Orlic) below.
Others Tagged With