Ask Community's Dean Pelton Anything You Want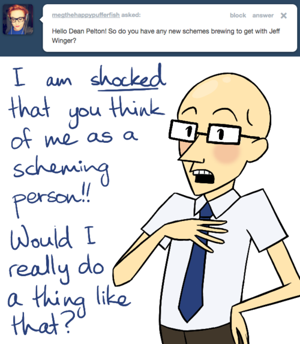 Ever wanted to ask the flamboyant dean of Greendale Community College a question? Now you can thanks to Ask Dean Pelton, a hilarious Tumblr that offers people the chance to ask Dean Pelton burning questions that are answered with unique drawings of the man himself.
Most questions involve how good-looking Jeff Winger is or what it feels like to hug Jeff Winger or what Jeff Winger's torso is like (we're getting the feeling Community fans are just as obsessed with Winger as the Dean is), but since the site just started a few weeks ago, we're sure that a variety of questions and even more hilarious answers will start pouring in soon.
In the meantime, be sure to check out Dean Pelton's answers and ask your own question.
Others Tagged With