Watch President Obama Sing "Sweet Home Chicago"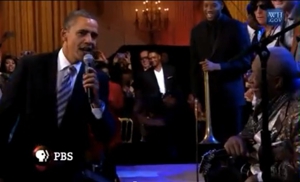 After President Barack Obama's glorious rendition of Al Green's "Let's Stay Together" last month, we didn't think we'd see anything better from the President, musically, at least.
Last night, however, stars that included Mick Jagger, B. B. King, Buddy Guy, Jeff Beck and Keb Mo gathered in the East Room of the White House for a blues concert in honor of Black History Month. The event was part of the series "In Performance at the White House," and the entire show will be broadcast on Feb. 27 on PBS.
As President Obama stated at the event, "This music speaks to something universal. …No one goes through life without both joy and pain, triumph and sorrow. The blues gets all of that, sometimes with just one lyric or one note."
We couldn't have said it better ourselves, Mr. President.
Watch the rousing performance of "Sweet Home Chicago" below.
Others Tagged With