"Who Is Bon Iver?" Tumblr Arrives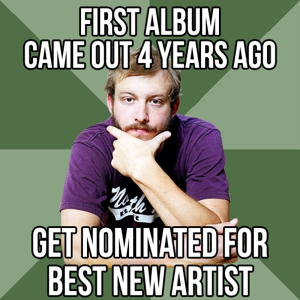 "Bon Iver (Bonny Bear) just won 2 Grammys. Most of us know who they are. This blog is about the people who don't," reads the face page of the "Who Is Bon Iver" Tumblr.
Now neither party seems to be too pleased about this Grammy bit, with two consistent responses to Bon Iver's Grammy win on Twitter:
1. Who is "Bonny Bear?"
2. Bon Iver circa 2008 doesn't qualify as "Best New Artist"
And in this medium of social networking where consumer opinions and beliefs become the backbone of conversation, the public has become pretty vocal on the controversy. At this point, the dialect has become hysterical and blown out, so much in fact, that the trending topic has become something of a joke. And hey, we like jokes.
This is nothing new to the Grammys. When the Academy took a step back from commercial in 2010 with Arcade Fire the same backlash was created. Just check "Who is Arcade Fire" tumblr.
So, in honor of you, you 2012 artist of the year, you Kanye side project… we'd like to thank you for your four years of music breeding, your beautifully crafted second album and your sense of humor.
Check out a few of our favorite "Who Is Bon Iver" tweets and Justin Vernon's acceptance speech.
Others Tagged With