Want to be Buried in Bacon?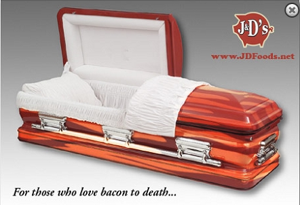 Love bacon to death? One company hopes you do.
J&D's Bacon Coffin boasts that they have the world's first coffin made to look like bacon, and we don't doubt it. The coffins are finished with bacon and pork shading and are accented with gold handles. It also comes with a bacon memorial tube and is completed in ivory crepe coffin linens.
In a press release for the coffins, the company said "FACT: Approximately 56 million people die per year worldwide, 2.4 million in the U.S. alone – 99 percent of which loved bacon." While we're still waiting on official numbers on that bit of information, the idea is interesting enough for your favorite light-hearted (and recently deceased) bacon lover.
The coffins are available today for a cool $3,000 and can be ordered here.