The Melvins' Kurt Cobain-Decorated Tour Van For Auction on eBay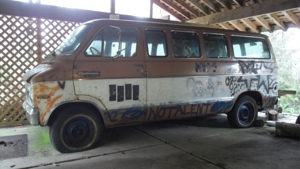 The Melvins' infamous 1972 Dodge Sportsman Royal Van, which they used as a tour van and dubbed "The Melvan," is up for sale on eBay. Not only did the rock band leave many memorable drawings on the sides of the van, but Kurt Cobain also left few doodles of his own.
You can bid on this one of a kind piece of memorabilia, but it will cost you a mighty penny. The current bid at the time of press is $99,999.99 with just over three days left. If you win you'll also get two pieces of registration; one signed by Roger Osborne (King Buzzo) & the second signed by former Melvins bass player Matt Lukin.
You can bid and see more photos of the Melvan here.
Others Tagged With