Spotify Turns Facebook Timeline into Music History Lesson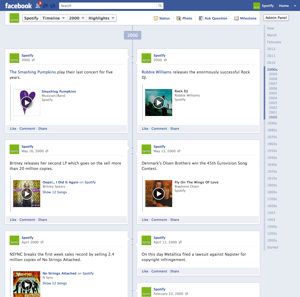 Spotify has turned their Facebook page into a timeline of the history of music. Like most pages on the social networking site, a new timeline feature is taking over personal and business pages. Spotify's page will work in the very similar way that other businesses use the site: they'll update fans of new features, keep them in the loop on new music and try to get more fans.
But unlike other sites, the music streaming service has also used the timeline feature to give a detailed account of everything that has happened in the world of music dating back to 900 A.D.
For instance, if you go back to 1939, you'll discover that legendary jazz label Blue Note was founded that year. Ever wonder when the Grateful Dead was founded? If you check 1965 you'll learn the group first banded together in San Francisco of that year, plus you'll find a link to listen to their music on Spotify itself.
Take a look back throughout pop music's history and relive when and where your favorite memories took place, or learn some new information.
Others Tagged With