Watch a Mattel Back To The Future II Hoverboard Actually Hover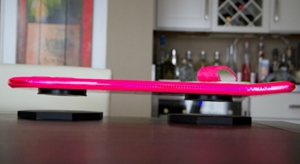 We heard a few weeks ago that toy company Mattel was launching a replica Back To The Future II hoverboard: A to-scale replica that measures approximately 28″ × 8″ × 3" and has all the same patches, logos and colors as Marty McFly's original.
But then, this magnificence floated onto our radar. YouTube user dondula7 modified one of the boards, making it actually hover magnetically. This version only supports about five pounds of weight, but we still think it's pretty awesome.
Pre-order the (stable) hoverboard over at MattyCollector.com until March 20 and check out dondula7's video below.
Others Tagged With