Watch the Flaming Lips and Jackson Browne Cover Woody Guthrie With iPads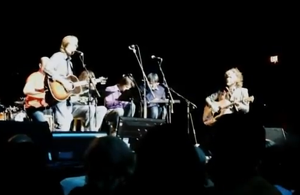 During a Woody Guthrie tribute concert in Tulsa, Okla. on March 10, singer/songwriter Jackson Browne joined The Flaming Lips for a cover of "Along the Sun and the Rain." The catch, however, was that while Browne and Wayne Coyne both played guitars, the rest of the Lips performed using iPads.
This fan-shot video includes two songs—"Along the Sun and the Rain" and the Lips' "Do You Realize???"—out of their three-song set. Check it out below.
Others Tagged With