Watch Weird Al Parody the 30 Rock Theme Song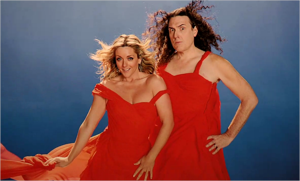 In his decades-long career, Weird Al Yankovic has parodied television shows like The Flintstones, The Brady Bunch, Jeopardy and Jerry Springer. But this past week Weird Al made an appearance on 30 Rock and parodied the NBC show's wordless theme song.
Yankovich appeared on the show to parody one of Jenna Maroney's songs. But during the end credits, Yankovich made up his own lyrics to the "30 Rock" theme song as he did an insane dance that was fitting for the comedian.
His lyrics included references to critiques of the show on Facebook and Twitter. Yankovic also (lovingly) insulted the show's less-than-desirable ratings. Check out Weird Al's parody below:
Others Tagged With