Johnny Depp Played Drums for Todd Snider's Opening Band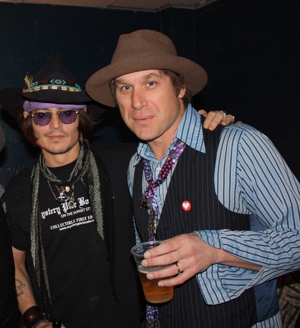 In a musical meshing of creative worlds, actor (and multi-instrumentalist) Johnny Depp played drums with Bill Carter & The Blame at a gig last night in Los Angeles. Carter was opening for the alt-country singer Todd Snider.
A number of other stars appeared at the show, including Oscar-winning actress Natalie Portman and Aerosmith's frontman, Steven Tyler.
Depp and Carter go way back, though, having performed together in the short-lived '90s alternative band, P. With Depp and Carter both switching between guitar and bass, Butthole Surfers' Gibby Haynes on vocals and actor Sal Jenco on drums, the band released its only self-titled album in 1995.
In his own right, Carter has also penned hits such as Steve Ray Vaughan's only number one single, "Crossfire."
While Todd Snider's tour continues through June and Carter has a pretty regular residency Wednesday nights at Z'Tejas in Austin, Texas, we couldn't dig up anything else on Depp's rock 'n' roll performance schedule. So for now, check out this fan footage of Depp playing guitar with Carter last year.
Others Tagged With