The Social Media Shower Curtain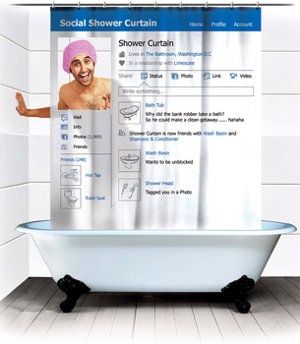 We're pretty much connected on all of our social media outlets at all time—between Facebooking at work, tweeting while driving, hanging out on Google + at home, pinning things everywhere on Pintrest and laughing at the antiquity of Myspace.
But one of the few places social media hasn't dared yet go is the shower. Until now.
Nylon pointed out that Fred Flare is selling a hilarious Social Shower Curtain, complete with status updates, friends list, relationship status and transparent window where your face (er, profile picture) goes.
Take your social media in the shower with you for $26 over at Fred Flare.
Others Tagged With