The Beatles' First U.S. Show to Screen in Theaters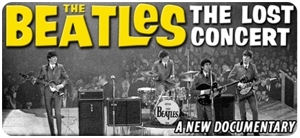 The Beatles' first show in the United States took place at the Washington Coliseum in Washington, D.C. on Feb. 11, 1964. Beatlemania unveiled its fresh face on the packed crowd of 8,092 fans in attendance over the course of a 12-song set that included "She Loves You" and "Twist and Shout."
Over 40 years the footage of the historical event was lost, found and has yet to be seen by audiences—until now.
On May 17, Screenvision, in partnership with Ace Arts and Iambic Media will present a 92-minute documentary which features The Beatles' first-ever U.S. concert, titled The Beatles: The Lost Concert. The documentary will be shown in theaters across America between May 17-22. For information on theaters and ticket purchases check here.
Rolling Stone reports the documentary will feature interviews from Chuck Berry, Mark Ronson, Strokes members Albert Hammond Jr. and Nick Valensi as well as Aerosmith's Steven Tyler and Joe Perry.
Watch the trailer below.

Others Tagged With