Watch Frank Turner Get Tattooed During His Show at Wembley Stadium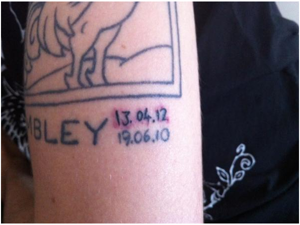 In about seven years, Frank Turner has gone from the ex-lead singer of British hardcore band Million Dead to a struggling pub-singer to an internationally recognized songwriter selling out Wembely Stadium. While Turner opened for Green Day at the legendary venue in 2010, he finally sold out the stadium as the headlining act this past weekend. And to commemorate the event, Turner enlisted his tattoo artist buddy Matt Hunt to document it on his upper arm.
This was no ordinary tattoo job, though. Between the main set and the encore, Turner ran backstage where the Hunt did his work. All 12,000 people in the crowd watched along as the procedure was recorded and projected back onto a screen facing the audience.
Luckily for the rest of the world, Hunt's studio Modern Body Art uploaded everything to YouTube. At the end of the clip, Turner brings fellow English songwriter Billy Bragg on stage to cover Bob Dylan's "The Times They Are A-Changin'." It's too bad there's not footage of that, too.
Watch it all below.
Others Tagged With