Watch Nicolas Cage Do His Best John Cage Impression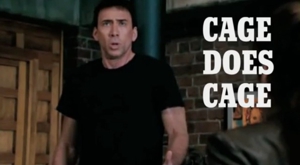 Experimental composer John Cage's seminal work, 4'33" came as quite a shock when it made its debut in 1952. Designed as an exercise in listening, the four-minute and 33-second-long piece included no instrumental work, thereby forcing the audience to hear the ambient noise around them.
Nearly 60 years later, MFA student Adam Lucas has made the ingenious, and the inevitable—"Cage Does Cage." Lucas spliced together clips of a relatively silent Nicolas Cage from more than 20 different films. The only sounds in the precisely four-minute and 33-second-long clip are in the background—coughing, cell phones ringing and restless fidgeting.
Lucas' last shot of the montage shows an angry Cage throwing on his jacket and storming off screen, a clip that totally encapsulates the parallel experiences. Check out the hilarious "Cage Does Cage" below.
Others Tagged With