Ken Marino's The Bachelor Parody, Burning Love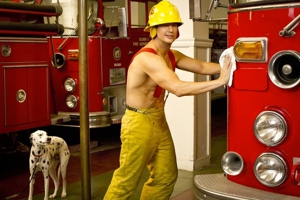 To parody a show already as over-the-top as The Bachelor, one would need to best the long-running ABC reality show in over-the-topsmanship, and few are more adept at playing caricatures than Ken Marino (anyone who saw his performance as Paul Rudd's misogynistic, barbecuing, Sky Mall-ordering brother in Wanderlust can attest).
His new show, called Burning Love, will feature Marino as Mark Orlando, a narcissistic, shirtless fireman "looking to ignite the flames of love" amidst a cast of desperate suitors including a grandma, a panty-less floozie, a homeless woman (played by Malin Akerman) and, if the cast photo is any indication, a giant panda. Also joining Marino will be fellow Party Down (R.I.P.) cast member Adam Scott, as well as Kristen Bell and Wet Hot American Summer co-star Michael Ian Black. The series will air on Yahoo and is executive produced by Ben Stiller, who we're hoping will make a few cameos as well. Burning Love will make its debut on Yahoo Screen's Comedy Channel on June 4, but for now you can check out the trailer (below) as well as the Burning Love Twitter feed, featuring nuggets of hilarity from Orlando himself.
Others Tagged With