Men in Black 3 Reimagined Through Wes Anderson's Lens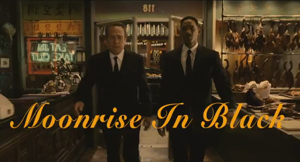 It goes without saying that Wes Anderson has a very distinct style that rules each of his movies, dominating the tone, the script and the cinematography. With Anderson's newest, Moonrise Kingdom, making its debut recently, and with Men In Black 3 also cashing in big bucks at the movies, a clever YouTuber asked: what would it look like if Wes Anderson directed them both?
Posted without much of an explanation, the trailer for Moonrise in Black takes the iconic director's signature techniques and recreates them in a trailer for the new Will Smith film. Whatever anonymous editor pulled this together was absolutely spot on, using the same music from the Moonrise trailer and covering the entire clip in gold, ornate cursive. The trailer is full of symmetrical shots, disjointed lines and clips, and has been overlaid with autumn-tinged hues—All it's missing is mod dresses and Bill Murray.
Watch the trailer for Moonrise in Black below.
Others Tagged With