Bill Murray's Minor League Baseball Hall of Fame Induction Speech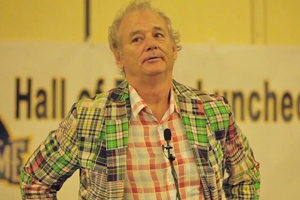 It's no secret that Bill Murray is a big baseball fan. He hasn't been shy when it comes to professing his allegiance to his hometown Chicago Cubs. It's even been said that Murray only agreed to do The Life Aquatic if he was given a live feed of all Cubs games.
What many don't know, however, is how much Murray loves Minor League Baseball. He has had a long history of involvement with the Minors, and currently is the part-owner of several franchises. One of those franchises, the Charleston River Dogs, belongs to the South Atlantic League, and it was the "Sally" League that recently inducted Murray into its Hall of Fame.
With a Hall of Fame induction comes an induction speech, and Murray arrived at the Charleston Marriott in his favorite new plaid patchwork blazer to accept the honor.
Murray's speech is hilarious, but is also filled with sentimental accounts of his involvement with the game. At the end of the video, he gives a heartfelt suggestion to the players of that night's game to lie down in the outfield and gaze up into the sky as the post-game fireworks show takes place. To add a little levity, of course, Murray returns to the podium shortly after finishing his speech to deliver a joke about two thoroughbred horses chatting in a bar.
Watch Murray's speech below:
Others Tagged With