Watch Conan O'Brien and Chicago Schoolchildren Sing the Blues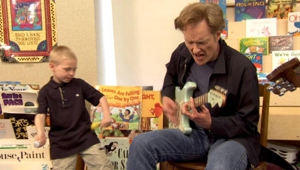 Between Muddy Waters, Buddy Guy and Koko Taylor, many blues greats have called Chicago home. But now the city has some new members to add to its blues ranks: Conan O'Brien and a class of first grade children.
In a supposed effort to introduce children to the genre, Conan visited the Frances Xavier Warde Elementary School in Chicago to enlist their help in writing a few songs about the woes of being seven. The hysterical results are full of stolen teddies, food aversions and irrational childhood fears. Oh, and some really cute, sassy kids playing the harmonica. You can watch the clip below.
Others Tagged With