Detroit Could Open a Zombie-Themed Park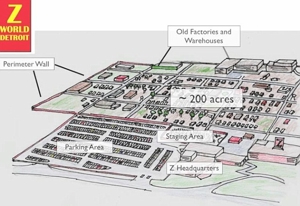 For a few Detroit-based out-of-the-box entrepreneurs, there was one question they kept asking themselves: What do you do with the heavily blighted, abandoned swaths of land throughout Detroit. There answer was a bit unorthodox—zombies. As described in detail on the budding theme park's indiegogo page, Z World Detroit would offer visitors a chance to experience an in-depth zombie experience.
The theme park essentially is like spending one night in the zombie apocalypse. Groups of friends enter the designated grounds followed by a horde of zombies. Instead of ammunition of flesh eating, zombies will attempt to remove flags from players. Once you have lose your last flag, you become a braineater and must now hunt your friends.
The zombie project is still in its infancy and trying to gather funds via the Interwebs. You can watch the video below, providing details about the zombie theme park or you can head over to indiegogo to track to park's funding.