PBS Painter Bob Ross' Moving Remix Tribute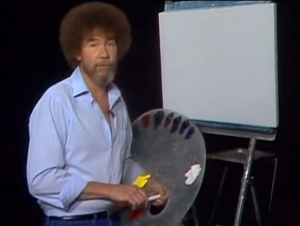 For more than a decade, Bob Ross helped painters, both professional and amateur, perfect their "happy trees" and picturesque landscapes. He delivered mini-motivational speeches as he turned a blank canvas into a work of art every half-hour segment of The Joy of Painting. Ross cancelled the show in 1994, in an effort to focus his efforts on battling Lymphoma, and unfortunately lost that battle a year later.
PBS Digital Studios created the video, which features a supercut of several clips and Ross' classic inspiring quotes. With the help of some creative auto-tuning, the short video becomes a rather touching memorial to the always cheerful painter.
You can watch "Happy Little Clouds," a video tribute to Bob Ross, below.
Others Tagged With