Watch Colin Mochrie Re-Enact Scenes from Star Wars with Action Figures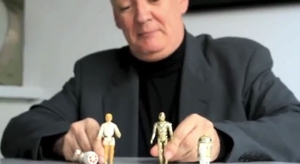 Colin Mochrie, a veteran of improv from Whose Line Is It Anyway? and all around funny guy, has recently spent time making appearances on several television shows and also apparently playing with Star Wars action figures. The short clip below features an excellent Ewok/George Lucas impersonation and an exhilarating scene of Wookie-on-Lando violence.
Mochrie's brilliant one liners offer a compelling argument for the return of Whose Line Is It Anyway? or at the very least, a reason to dig out your old Star Wars toys. You can watch the clip below.
Others Tagged With