"The Star Wars That I Used to Know" Gotye Parody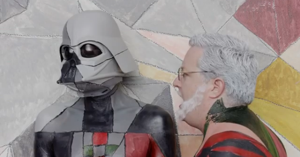 In a startlingly clever parody of Gotye's "Somebody That I Used To Know," YouTube collaborators Teddiefilms have asked (along with fans everywhere): whatever happened to the Star Wars that we used to know?
In a clip that mirrors the original video's cinematography and painted geometric designs, "Darth Gotye" (Survivor's Tyson Apostol) and George Lucas (Mike Loveland) angrily sing to each other about the most recent Star Wars films. In one verse, a naked and painted Lucas muses:
"Now and then I think of all the times I screwed fans over
I had them believing the first three films were really done
But Star Wars will be done my way
I don't care what they have to say
I think that they should let it go
And they'll never get a Blu-ray of the Star Wars that you used to know"
Check out the entire parody below.