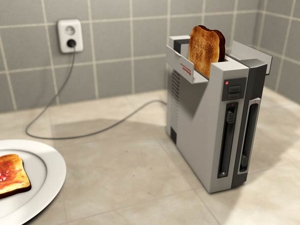 As far as awesomeness goes, it's hard to beat a classic gaming system that toasts bread for you.
Thankfully, MyBurningEyes has designed a toaster made to resemble the original Nintendo Entertainment System. It makes perfect sense—the bread goes in the same slot in which you would insert a gaming cartridge, and an inconspicuous lever blends right into the system's design. And just like any other toaster, you can toast two pieces of bread at once with another seamlessly designed gaming/toasting slot.
Unfortunately, this "retro gaming toaster" is only a concept and is not available for purchase. Isn't this what Kickstarter is for?
Take a look at a closeup below.