Watch A Cover of "Sweet Child of Mine" on a Fotoplayer From the '20s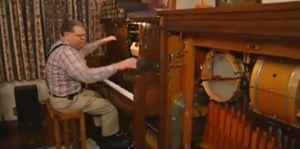 Do you love polka? Do you love Guns 'N' Roses? Do you love antique, pre-war musical instruments? If you answered all three of these questions with a resounding "Yes!," then you'll love this rendition of Gus 'N' Roses' "Sweet Child of Mine," which served as the introduction to an episode of California's Gold with Huell Howser.
After a brief introduction, Howser sends it over to his colleague, Joe, who busts into a spirited version of the Guns 'N' Roses classic on a fotoplayer from 1926. Joe's hands are in constant motion as he adds whistles, clanks, bells, horns and other polka noises over Axl Rose's vocals. How the fotoplayer actually works is beyond us, but it sure is entertaining to watch a master like Joe in action.
Take a look below.
Others Tagged With