Watch a Supercut of Movie Characters Singing "Baby Got Back"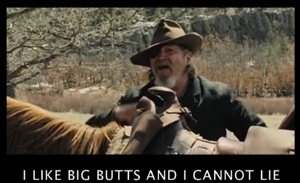 You've heard it a million times, but you've never heard it like this: courtesy of YouTube user dondrapersayswhat, you can now watch movie characters singing "Baby Got Back" (or at least 295 of them).
That's right, the seemingly supercut-obsessed video editor has completely reconstructed the 1992 Sir Mix-a-Lot hit in a new, seriously impressive video. Drawing from a mind-boggling range of films, cuts are used from Midnight Cowboy, The Descendants, Hook, When Harry Met Sally and Mulan, among so many more.
It is staggering to think of how long it would have taken to compile the three-minute video from 295 movies, but dondrapersayswhat, I hope it's paid off. You have won the Internet—for today at least.
You can check out newest rendition of "Back Got Back" below.
Others Tagged With