This Russian Subway Performer Sounds Just Like Kurt Cobain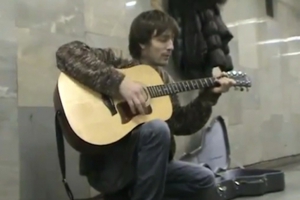 Here's a live performance that will take you right back to the early '90s, but only if you shut your eyes. Nikolay Petrovsky, a subway singer from Russia, has a voice that's so identical to the late Nirvana frontman that it is hard to tell the difference between the two.
Petrovsky is a trained sailor who started playing at his hometown subway station in Serbia back in 2004. What is even more impressive about his performance is the fact that he is a self-taught musician that doesn't speak any English.
Watch as Petrovsky covers "Pennyroyal Tea" off of In Utero. It's amazing how similar it sounds to Cobain's 1993 acoustic version from MTV Unplugged. If you aren't sold, take a side-by-side listen to the performances below.
(Via Spin)
Others Tagged With