Jimmy Cliff to Release First New Music in Seven Years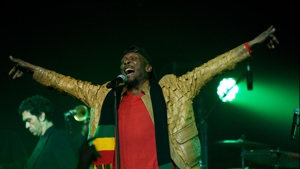 Jamaican ska/reggae pioneer Jimmy Cliff, winner of multiple Grammy Awards and the only living musician to hold Jamaica's Order of Merit, announced today that he will release an EP titled Sacred Fire on Nov. 29, a five-song collection produced by Rancid frontman Tim Armstrong.
Sacred Fire EP not only marks Cliff's first original material in seven years but serves as a prelude to a forthcoming full-length album, slated for an early 2012 release.
Working with Armstrong, Cliff found a bridge between his own Jamaican traditions and Armstrong's punk rock background. The two met through The Clash singer Joe Strummer and hit it off immediately—it didn't hurt that Armstrong is a lifelong fan of Cliff's music and has worked to spread ska and reggae music to larger audiences.
As a special exclusive for Record Store Day's Black Friday event, four days before the EP's official release, Sacred Fire will be available as a colored 12-inch vinyl that will feature a bonus track, "World Upside Down." Quantities will be limited.
Below are the track listings for the EP:
Sacred Fire EP Standard Release (Nov. 29):
1. Guns of Brixton
2. Ruby Soho
3. Ship is Sailing
4. A Hard Rain's A-Gonna Fall
5. Brixton Version
Sacred Fire EP Record Store Day Exclusive (Nov. 25):
Side 1
1. Guns of Brixton
2. World Upside Down
3. Ruby Soho
Side 2
4. Ship Is Sailing
5. A Hard Rain's A-Gonna Fall
6. Brixton Version
Others Tagged With