Miley Cyrus' "7 Things" vs. 10 Things I Hate About You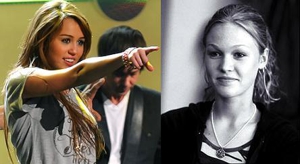 For months, Miley Cyrus was germs, my iTunes antibacterial hand lotion. This worked until it didn't, when I over-inoculated on Fripp & Eno and killed off too many aural taste-buds resilient to bubblegum pop. On another lost plateau for music balkanization, Miley's omnipresence trumped selectivity.
Strangely, this occurred behind
Paste
's cool-as-cucumber barricades. I imagine few will be surprised to learn that Cyrus' breakthrough,
Breakout
, made little staff impact upon its arrival from Hollywood Records. One intern stole the CD for car-playing kitsch value, while another (OK, me) posted the press-kit glamor photo above his desk. If not quite earnestly smitten, we were aware
—
even somewhat responsive.
But we really didn't think of it much. Cyrus' screentime as Disney's
Hannah Montana/Miley Stewart
had left little doubt about her eventual solo career; the show's school-girl-by-day, diva-by-night premise made the evolution not as much an afterthought as a founding principle of the whole franchise. She was a singer's daughter who became an actress in a role whose character had to act like she didn't sing (which was an act, anyway), so her becoming a singer who plays on her act-singing by real-singing that's sometimes part of the act was only surprising in the way that Daylight Savings is on the calendar all year but you still wake up an hour late one day and you're all, "When did
that
happen?"
It wasn't until the video release for "7 Things" that I got pulled into the mess of Miley
.
All of a sudden, there was this four-minute clip for the single vaulting up to a million page views in some infinitesimal time period. It now has over 70 million.
After a number of views I'm still neither willing to calculate nor divulge, I began considering the song's premise, channeled through the refrain in which Cyrus enumerates the list of reasons she hates an ex-boyfriend (who just might be lead Jonas Brother, Nick). The reasons themselves were not surprising. It turns out that it's unpleasant when boys like Maybe-Nick act differently around one group of people than another. Training as a dual-personality on Hannah Montana was not, apparently, preparation enough to deal with such an event.
Then, at its close, "7 Things" spins from a catalog of Cyrus' hates to a listing of likes. And suddenly, it clicked:
Others Tagged With