All The Right Friends: On R.E.M.'s Carnegie Hall Tribute and Benefit Concert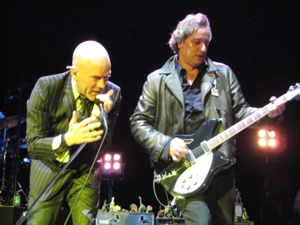 There's an old and unavoidable joke, usually told by hectoring music teachers or waggish elders. You've probably heard it. The set-up goes, "How do you get to Carnegie Hall?" The punchline? "Practice, practice, practice."
It's only about half true for R.E.M., who were paid tribute at that hallowed hall last night. As 20 musical acts performed one song apiece from the band's extensive catalog, the process by which the college-rock pioneers ended up there reached a certain fruition. It may have started as "practice, practice, practice" in 1980 in Athens, Ga., but the final steps to Carnegie have been those of a different sort—canonization. The band's 2007 induction into the Rock and Roll Hall of Fame (in its first year of eligibility) was an important sign, as were last year's relevance-retaining LP Accelerate and 25th anniversary reissue of Murmur. Moreover, past events put on by the tribute show's producer, Michael Dorf, focused on such luminaries as Joni Mitchell, Bob Dylan and Bruce Springsteen. Decent company.
All of the proceeds of this show, partially sponsored by Paste, benefitted three arts programs, each of which focus on providing music education to underprivileged students. It proved an appropriate cause for the night, as many of the performing artists introduced their offering with an admission of how much R.E.M. had taught them, saved them, spoken to them, inspired them—how much they, as musical act performing a song by R.E.M., owed their very existence as an act to that band and that song. So as the money earned paid forward to future students, the event itself paid back. And the loving therein had a kind of palpability, oozing from onstage amps and instruments to wherever Michael Stipe, Mike Mills and Peter Buck sat in the crowd.
Then, when it came to the tunes, the show ran with flip-flopping approaches to the difficult art of cover songs. Many of R.E.M. contemporaries chose, perhaps appropriately, to jangle straight through, a number of them with vocals that couldn't help but shine on a Stipe impression. Power-poppers The dB's, Hüsker Dü's Bob Mould and fellow Athenites Apples in Stereo gave solid recitals of "Fall on Me," "Sitting Still" and "South Central Rain," respectively, even if Mould hadn't quite memorized all the lyrics and checked a music stand periodically for notes. The legendary Feelies, who R.E.M. has cited as a major influence, locked, cocked and shot out "Carnival of Sorts (Box Cars)" with incredible energy, Glenn Mercer's guitar solo sizzling and skipping about.
Some chose to croon, as did Rachael Yamagata with her sultry take on "The Great Beyond" and Keren Ann in her soulful "Man on the Moon." Others took R.E.M.'s Georgia roots to heart, including Rhett Miller, who stood wide with country swagger for "Driver 8," and Jolie Holland, who spilled her own far-reaching twang all over "(Don't Go Back To) Rockville" with some doo-wop help from members of TV on the Radio. Later, Darius Rucker opens his arms wide to shake his hips and belt "I Believe" out of those Blowfish pipes. And throughout the night, the usually-Southwest-channeling Calexico provided house-band support for many solo performers, staying solid in grooves for others and getting just a bit more intense for their run through "Wendell Gee."
But the most memorable performances came from the artists who had internalized R.E.M. enough to push the familiar songs into unfamiliar places. Vic Chesnutt and Elf Power, Athens brethren of R.E.M., gave "Everybody Hurts" a powerful pyschedelic creepiness. Bedroom-folker Ingrid Michaelson tried out her loop pedal for the first time, performing a gorgeous version of "Nightswimming" with only the accompaniment of an upright bassist and her own washing vocal harmonies. Oscar-winner Glen Hansard also went the stripped-down route with a cozy, mandolin-supported take on "Hairshirt." And in what may have been the strangest set Carnegie has seen in its storied lifetime, Kimya Dawson took on "World Leader Pretend" with a glockenspiel player and team of performance artists behind her dressed as dragons, cops and furballs, all of whom appeared like characters from a Maurice Sendak storybook stumbling into a Rockette's number. Dawson's piece ended with all seven troupe members crowded together to cycle through the song's fitting refrain: "I have been given the freedom to do as I see fit."
Throughout the night, WFUV's Rita Houston narrated the event from offstage with disembodied authority, describing each act's connection to R.E.M.'s career. It was a nice touch, lessening the inherent clumsiness of the show's fast-moving and high-volume traffic. But none of her explanations matched the echoing words of Patti Smith, who closed out the tribute section. "R.E.M. the band has given me much inspiration," she said. "And Michael Stipe, the man, brought me up when I was down. And I ain't been down since." She moved, gently, into "New Test Leper," a tale of searching for connection on talking-head television. And though she forgot her lyrics at one point, sighing that she had "learned them so good, too," the blissful power of her performance remained clear. Smith was blessing the band for all they'd done and all they'd meant—to each person present, individually, and the crowd all together, as a generation.
It was little surprise afterward when the crowd lept to a standing ovation for Mills, Buck and Stipe, who were striding onto the stage. Stipe gave thanks before the band launched into New Adventures in Hi-Fi's "E-Bow the Letter," featuring Patti Smith. It was to be the last song of the night, and the eager crowd savored it, craning over balconies and sitting tall in their seats. R.E.M stood strong, playing Carnegie as composed and practiced as they'd ever been. Stipe's goatee, scholarly and gray, pointed slightly forward, casting a stately glow over the historic stage, like the next time he'd be there would be in Patti's role—proved, adored and inspired, helping usher musicians into history, paying tribute to a band that had often paid tribute to his.
Set list:

The dB's - "Fall on Me"
Fink - "The Apologist"
Keren Ann - "Man on the Moon"
Calexico - "Wendell Gee"
Rachael Yamagata - "The Great Beyond"
Bob Mould - "Sitting Still"
The Feelies - "Carnival of Sorts (Box Cars)"
Ingrid Michaelson - "Nighswimming"
Glenn Hansard - "Hairshirt"
Apples in Stereo - "South Central Rain (I'm Sorry)"
Guster - "Shaking Through"
Marshall Crenshaw - "Supernatural Superserious"
Rhett Miller - "Driver 8"
Kimya Dawson - "World Leader Pretend"
Vic Chesnutt and Elf Power - "Everybody Hurts"
The Throwing Muses w/ Kristin Hersh - "Perfect Circle"
Dar Williams - "At My Most Beautiful"
Jolie Holland - "(Don't Go Back To) Rockville"
Darius Rucker - "I Believe"
Patti Smith - "New Test Leper"
R.E.M. w/ Patti Smith - "E-Bow the Letter"
Others Tagged With