Glory Days: Dispatches From an Academic Conference on Bruce Springsteen (Part 4)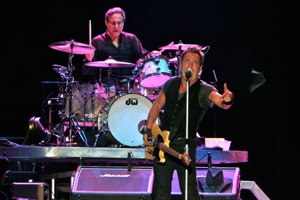 Saturday afternoon's events at Glory Days included a panel event titled "Springsteen and Social Consciousness." It included Jen Chapin, former board chair of World Hunger Year, a songwriter and daughter of WHY founder Harry Chapin; Kathleen DiChiarra, president and CEO of Community Food Bank of New Jersey; Joe D'Urso, board member of WHY and the Light of Day Foundation; and Bob Benjamin, founder of the Light of Day concert series to benefit Parkinson's research, reinforced just how deep Bruce's commitment to social justice is on a community level.
DiChiarra shared numerous stories of Bruce showing up to help pack food at her organization's warehouse in Newark. Springsteen, always with the "no publicity" caveat, has worked alongside recovering addicts and single mothers over the last 25 years in addition to his numerous donations and appeals for support.
Those donations include a $50,000 donation to cover a new roof on the warehouse, and a $230,000 check that paid for emergency shipments of food to New Orleans after Katrina. DiChiarra first started the food bank out of her station wagon in 1975 and now distributes over 30 million pounds of food a year.
Chapin, whose organization works to help feed people nationwide and eradicate problems of food insecurity, said Springsteen had donated or helped to raise on the order of $8 million for the group. "Bruce's integrity is unmatched," she said. "When he says he'll do something, we know he will."
Joe D'Urso, who used to work for Springsteen booking agent Bary Bell, spent years fielding requests for Springsteen to perform benefits or make donations. Currently, he is a performing musician himself and helps stage the Light of Day concerts with Benjamin, who suffers from Parkinson's.
The concerts, which began in 1996 as a birthday party for Benjamin, were last year held in over a dozen countries. Springsteen has made appearances at six of the shows. It was the defiance Benjamin heard in songs like "Promised Land" and "Roulette" that gave him the courage to "fight back with music."
The conclusion? As much as we know about Bruce's charity work, he probably does even more than we can ever know, and its impact has touched many lives.
One breakout session which I found particularly rewarding was on Sunday. Presenters included James Coughlan, a university professor from Australia discussing Bruce fans down under; Mark Bourdeau, from Suffolk County Community College in New York on Springsteen's deep and long-standing fan base in Cleveland; and peace activist and teacher Victor Garcia Zapata, on why Bruce has little to no fans in Mexico. Zapata reasoned this was because there is very little promotion of his new releases; younger people tend to prefer underground rock while their parents listen to traditional music, and to many Springsteen paradoxically still represents what many in Latin America see as the oppressive interventionism of the Reagan years. "You know the misunderstanding with Born in the U.S.A. here," he said. "Imagine that in Mexico."
Saturday night featured music at the Stone Pony from Joe Grushecky and the Houserockers, Stewart Francke and Willie Nile. In true Asbury tradition, every artist sat in with just about everyone else at one time or another, until you really couldn't tell whose show it was anymore.
And as a special surprise, photographer Danny Clinch, in town promoting an exhibit of his last 10 years of Springsteen photos in a makeshift gallery on the boardwalk, blew some killer harp with Grushecky. Always with a keen eye for the moment, though, Clinch at several points would be holding his harp with one hand and shooting his Lycra with the other.
The weekend ended with a hysterical and revealing presentation by Marilyn Rocky, the woman who rented Bruce the bungalow in Long Branch (for $200 per month; Bruce was earning about $350 a week from Columbia Records at the time) where he wrote the songs for Born to Run. Rocky remained a friend of the band over the years.
Bruce, she says, was an "excellent tenant" for the year and half he lived in the house, from May of 1974 to September of 1975, when new fame meant people started showing up all the time. "The house was under siege," she said. Rocky sold the house in the 1990s. Last month, it went up for sale at $299,000. It is only 828 square feet.
And even though we are supposedly grownups with work and families to get back to, the last day of any collective experience like the Glory Days Symposium tends to remind me a bit of the last day of summer camp; hearty handshakes and slaps on the back, an exchange of phone numbers and e-mails with promises to stay in touch or get together, an odd hug or two.
This year's event was quixotic in a way. It marked 10 years since Bruce reconvened the E Street Band, and got a lot of people talking about what Bruce may do next, since every indication points to the band taking an extended hiatus. Again in four years for another symposium? I sure hope so; I've already got three different things I want to write about. And as Springsteen's last decade of prolific activity has shown us, a whole lot can happen in four years.
Others Tagged With