Live Review and Video: Thom Yorke Secret Show - The Echoplex - Los Angeles, CA - 10/2/09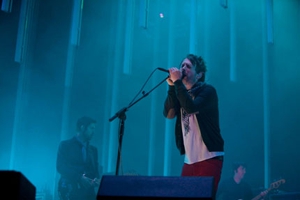 The familiar first notes of Thom Yorke's title track from his solo album, Eraser, swept over a hazy crowd of lucky and excited ticket holders Friday night in Los Angeles. Yorke and the members of his new and currently unnamed L.A.-based group (including Flea of the Red Hot Chili Peppers) took their places on The Echoplex stage, and officially began the show they called their "rehearsal." And if the rehearsal is any indication of the group's sound, Radiohead fans and music lovers alike can count on a certain eccentricity in balance with lovely, inspired music.
Getting a ticket to this tiny, last minute show was no easy feat; the show itself was unconfirmed until around 8:30 Friday morning, when Yorke himself announced on Radiohead's blog, Dead Air Space, that tickets would go on sale at noon that same day. LA Times Music Blog, Pop & Hiss, reported online how ticket vender site, TicketWeb.com, was temporarily over-processed as fans logged in to buy tickets. Unsurprisingly, tickets to the show sold out in less than an hour.
The show itself was spectacular. At door time, a line stretched from the door of The Echoplex's back alley entrance down Glendale Blvd, at times a little longer than a city block. The venue did a good job of speeding through the line to accommodate ticket holders and hustle everyone into the club (all tickets were will-call only, due to the immediacy of the show).
Yorke and his band played Eraser in its entirety, interrupting only a few times, once to play "Weird Fishes/Apreggi" from Radiohead's "In Rainbows." The sound quality was strong and consistent, and the band played together much better than one might expect for a modest "rehearsal," complete with fun revisions and surprisingly upbeat interludes to songs from Yorke's otherwise melancholy record.
Agreeably, the bulk of the show came after a brief intermission. Yorke returned to the stage sans Flea, Joey Waronker (drummer R.E.M & Beck), Mauro Refosco (Forro in the Dark), and Nigel Godrich (Radiohead producer) and played, first on a piano, a new song he reluctantly called, "Open the Floodgates," and followed this with three additionally lovely new numbers before his band mates returned to their places and finished out their set.
Watch Yorke play the four new songs below (via Pitchfork):
"Open the Floodgates"
"Lotus Flower"
"Skirting on the Surface"
"Judge, Jury & Executioner"
Others Tagged With