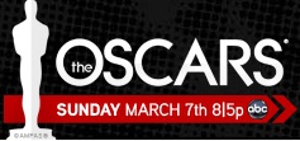 As promised in Friday's Oscar takeover, we're live blogging the Oscars again. Let's see how our picks and predictions for this year's awards hold up.
11:59 (Michael): I like this visual of Bigelow double-fisting the statuettes.
11:59 (Josh): Can't argue with that choice. So happy for Ms. Bigelow. And a real victory for the independent spirit.
11:59 (Michael): Didn't see that one coming.
11:59 (Tim): Wasting no time on the announcement (wow), Winner, Best Picture: The Hurt Locker (Kathryn Bigelow, Mark Boal, Nicolas Chartier and Greg Shapiro)
11:55 (Tim): Winner, Directing: Kathryn Bigelow for The Hurt Locker. Worthy choice. And about damn time.
11:52 (Tim): The cynic in me fights it but I do appreciate Sandra Bullock's self-deprecating sense of humor, down-to-earthness and what seems like a genuine niceness.
11:48 (Tim): Winner, Actress in a Leading Role: Sandra Bullock for The Blind Side. We called it (as did everyone else), but I was seriously pulling for Gabourey.
11:40 (Tim): Meryl Streep, the most nominated actor at 16 (as has been mentioned), has been nominated 6 out of the last 12 award ceremonies. She hasn't won since 1983 (for Sophie's Choice—her other win was for Kramer vs. Kramer in 1980).
11:33 (Tim): <rimshot />
11:33 (Michael): No surprise with Jeff Bridges, but the dude definitely deserved it.
11:32 (Tim): Winner, Actor in a Leading Role: Jeff Bridges for Crazy Heart. There was little doubt.
11:24 (Josh): One of my favorite interviews last year: Jeremy Renner.
11:17 (Tim): Is it just me or is it getting harder to see foreign language films in the theater? In the '90s, I routinely saw most of the nominees in this category. Not so much these days. There'd be little hope w/out festivals.
11:16 (Tim): Winner, Foreign Language Film: Juan José Campanella for The Secret in Their Eyes (El Secreto de Sus Ojos) [Argentina]
11:07 (Tim): Winner, Film Editing: Bob Murawski and Chris Innis for The Hurt Locker
11:04 (Tim): Winner, Documentary Feature: Louie Psihoyos and Fisher Stevens for The Cove
10:56 (Nick): Hey, I liked the dancing! Did you really want 2 more Randy Newman performances?
10:55 (Tim): Winner, Visual Effects: Joe Letteri, Stephen Rosenbaum, Richard Baneham and Andrew R. Jones for Avatar
10:54 (Josh): Outstanding Visual Affects: Avatar… and some others.
10:53 (Tim): Winner, Music (Original Score): Michael Giacchino for Up
10:50 (Josh): But the Avatar score has it made for the best dancing. I could see it winning.
10:50 (Tim): Ugh. You can't take the time for Best Song performances but you're spending 5 minutes on this? Bored now.
10:49 (Josh): The Up score is completely superior to these others. That simple plinking on the keys conjures up every wonderful moment of that film.
10:47 (Tim): Actually, that was Leona Lewis, not Celine Dion. Easy mistake to make. I thought it was Celine at first. And I strongly agree with the sentiment.
10:46 (Josh): Avatar should be disqualified for ruining its lovely score with a Celine Dion finish.
10:43 (Josh): @ckexplainsitall just let me know that was Anathallo's "Dokkoise House" in the AmEx commercial.
10:37 (Josh): Demi Moore is dressed as the Oscar statue.
10:36 (Tim): Winner, Cinematography: Mauro Fiore for Avatar
10:31 (Josh): Speaking of cueing "the generic indie-pop track," I love that song on the Coke commercial: "Be Gentle With Me" by The Boy Least Likely To. I was surprised to hear that on Rachel Ray's kid's CD a few years back.
10:29 (Nick): I think mixing & editing are separate b/c it's not usually the same person.
10:28 (Tim): My thoughts exactly. Or at least move one to the tech awards that are given out earlier.
10:27 (Josh): Not to take anything away from the sound guys, but couldn't we combine editing and mixing?
10:27 (Tim): Winner, Sound Mixing: Paul N.J. Ottosson and Ray Beckett for The Hurt Locker
10:25 (Michael): The Hurt Locker picks up another. Miz Bigelow is certainly doing her best cheshire cat grin.
10:25 (Josh): Leave it to the Oscars to finally make Morgan Freeman sound dull.
10:25 (Tim): Winner, Sound Editing: Paul N.J. Ottosson for The Hurt Locker
10:22 (Michael): Zac Efron after the horror montage is somewhat apropos.
10:22 (Josh): All that and no Attack of the Killer Tomatoes?
10:20 (Tim): Sigh. My wife, in public here, just lumped Buffy and Twilight in the same category. Legal grounds?
10:20 (Nick): Horror tribute starts with Jaws. That's original.
10:18 (Tim): Nice Paranormal Activity spoof.
10:12 (Nick): Sandy Powell, the costume design winner, tried to be classy but just came off as smug.
10:11 (Josh): Least interested winner. Did she really just say "I've already got two of these?" James Cameron is going to seem humble tonight.
10:11 (Michael): A period piece winning best costume. That's crazy talk. Stop talking crazy.
10:11 (Tim): Winner, Costume Design: Sandy Powell for The Young Victoria
10:10 (Tim): Seriously. I'm always amazed at how such great actors are utterly incapable of reading off a queue card smoothly.
10:10 (Michael): Is it just me or do way too many of these presenters sound like middle schoolers in public speaking class?
10:08 (Michael): Ha ha aren't homonyms hilarious.
10:07 (Josh): Dr. Parnassus definitely got nominated in the right category. Terry Gilliam has an unmatched imagination if not always the storytelling chops. But Avatar deserved that one.
10:07 (Tim): Winner, Art Direction: Rick Carter and Robert Stromberg (Art Direction); Kim Sinclair (Set Decoration) for Avatar Hard to argue with that. In any other year, I would have given it to The Imaginarium of Doctor Parnassus.
10:03 (Michael): There is something so comfortable and familiar about a British voice yelling "I won't allow it!"
10:01 (Michael): Happy for Mo'Nique, but I'm getting a pit in my stomach at the thought of Tyler Perry being even tangentially more legitimate.
9:59 (Michael): Whoah, didn't see that one coming. Although Mo'Nique definitely won based on her clip alone.
9:59 (Tim): Winner, Actress in a Supporting Role: Mo'Nique for Precious…
9:59 (Nick): Maggie did seem quite appreciative.
9:58 (Tim): Was Maggie tearing up at her own performance?
9:55 (Tim): Took the audience long enough to start the Standing O.
9:55 (Michael): Look at that, an Oscar presenter moving their arms.
9:53 (Michael): Cue generic indie-pop soundtrack for highlight reel.
9:51 (Michael): Good pick, if not entirely surprising. One of the better adaptations of the last decade.
9:50 (Tim): Winner, Writing (Adapted Screenplay): Geoffrey Fletcher for Precious: Based on the Novel 'Push' by Sapphire Called it.
9:49 (Michael): J-Gags is too deadpan for his own good.
9:45 (Nick): FIRST EVER STAR TREK OSCAR WIN! 10 previous nominations, no wins. http://www.trektoday.com/content/2010/03/star-trek-oscar-nominations-past-and-present/
9:43 (Nick): Didn't see a Star Trek Oscar coming.
9:43 (Michael): Star Trek was a no-brainer for best makeup, although there's some deep irony there considering how the series is synonymous with awful makeup.
9:41 (Tim): Winner, Makeup: Barney Burman, Mindy Hall and Joel Harlow for Star Trek.
9:40 (Michael Saba): Ben Stiller is getting his Stanislavski on and it's frightening.
9:38 (Tim): Hey, Stiller's actually funny.
9:37 (Tim): Winner, Short Film (Live Action): Joachim Back and Tivi Magnusson for The New Tenants.
9:35 (Tim): People here are confused. Did a crazy spectator just run on stage and bogart the mic? Music play off well deserved.
9:34 (Tim): Winner, Documentary Short: Roger Ross Williams and Elinor Burkett for Music for Prudence.
9:33 (Nick): I want to see Logorama. And maybe applause it.
9:32 (Tim): Winner, Short Film (Animated): Nicolas Schmerkin for Logorama.
9:32 (Tim): Nick Park got some cheers here. Wallace and Gromit.
9:30 (Tim): Kavi for live action. Looks like this is animated, at least first.
9:29 (Tim): Me, too. Met the director at Sundance this year. Great short.
9:28 (Josh): Pulling for Kavi here.
9:27 (Tim): People here running back from kitchen and bathroom. Can't believe how short the commercial breaks are. Sign of the economy?
9:25 (Josh): The first 10 minutes of Up constituted just about the sweetest summation of a lifelong romance I've ever seen.
9:25 (Tim): Some of the people here are just about in tears remembering the first 10 minutes of Up.
9:23 (Nick): Oh! Judd Nelson lookin' SKEERY. Macaulay Culkin lookin LOST.
9:22 (Nick): Presentation of vintage Hughes stars gave me chills!
9:21 (Josh): So great to see all these actors together. I miss them.
9:20 (Josh): The only award John Hughes won (according to IMDB) was the 1991 Producer of the Year given at the ShoWest Convention. It's good to see him honored tonight. These were the movies of my teen years.
9:20 (Tim): Yes. Hughes tribute. This takes me back.
9:18 (Nick): Hold it, is that Molly Ringwald? I missed the intro!
9:16 (Josh): I a screening of The Hurt Locker with no expectations. I walked out with my jaw on the floor. The way Bigelow sustained intensity almost left me shaking.
9:16 (Nick): I count that Hurt Locker scriptwriting win as a pretty big signal that Bigelow will win Best Director.
9:15 (Tim): Winner, Original Screenplay: Mark Boal, The Hurt Locker. My pick was Quentin Tarantino.
9:15 (Nick): Fey & Downey, Jr. deliver – no surprise. Hey, our blog is very not snarky. Are we not snarky?!?!
9:13 (Tim): Or Tina Fey. But not sure about Downey's blue glasses and giant bow tie.
9:12 (Nick): How bout Robert Downey, Jr. for Oscar Host? That would be brilliant.
9:09 (Nick): I like one change this year: much longer looks at the nominated performances.
9:08 (Josh Jackson): I miss the musical performances in theory. But I wasn't dying to see any of those five nominees performed in full.
9:04 (Tim): Winner, Best Original Song: Ryan Bingham and T Bone Burnett for "The Weary Kind (Theme from Crazy Heart)" Definitely Paste approved!
9:01 (Nick): Miley's dress is distracting in an awkward "is she really old enough for that" kind of way.
8:58 (Tim): Winner, Animated Picture: Up. The obvious, and worthy, choice. It was #2 on our Best Movies of 2009.
8:54 (Tim): Winner, Supporting Actor: Christoph Waltz, Inglorious Basterds. Yes! That's who we would have chosen. Promise. His first scene in IB will remain an all-time cinema classic.
8:52 (Nick): Head on a platter!
8:51 (Tim): We left out supporting categories on our predictions somehow. Oops.
8:44 (Nick Purdy): Returning to tradition this year with the first award.
8:43 (Tim): Nice start. I was a little skeptical about two hosts, but they played off each other well.
8:35 (Tim): And I have high hopes for Steve Martin and Alec Baldwin.
8:33 (Tim): Alright, Barney/Dr. Horrible! NPH is making a career of award show hosting. It can't be long before he's actually hosting the Oscars. Kicking it all of is a nice precursor.
8:23 (Tim): Yes, Jeff Bridges. It doesn't get much better than T Bone Burnett. Nice shout-out.
8:15 pm (Tim Regan-Porter): Still waiting on the real show to begin. I'm at a friend's house with a bunch of people from Atlanta and ESPN magazines. Josh will be joining me online a little later.
Others Tagged With